The Works of Charles Robert Maturin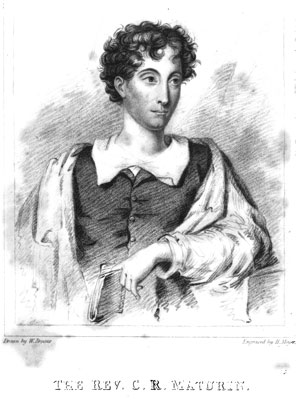 The Works of Charles Robert Maturin, a series containing his novels, plays, and sermons, seeks to present a reliable, freshly typeset, and judiciously annotated text of Maturin's works.
The volumes in the completed series are as follows:
Fatal Revenge; or, The Family of Montorio (1807) (ISBN: 978-1-304-37342-8) more

Charles Robert Maturin's first novel, Fatal Revenge; or, The Family of Montorio, was published in 1807. A gothic romance incorporating features of his predecessors Ann Radcliffe and "Monk" Lewis, Maturin's dark tale of the brothers Ippolito and Annibal Montorio is a complexly plotted adventure, full of "strong and vigorous fancy, with great command of language," according to Sir Walter Scott, who reviewed the novel in 1810. Maturin's relish for the gothic and horrid, so brilliantly exploited in his masterpiece of 1820, Melmoth the Wanderer, here makes its first appearance, and the themes that haunted the later novel find their initial expression in Fatal Revenge. Maturin's unique talents of "darkening the gloomy, and of deepening the sad; of painting life in extremes, and representing those struggles of passion when the soul trembles on the verge of the unlawful and the unhallowed," make Fatal Revenge a compelling essay into the twilight world of the late gothic novel, one in which both innocence and evil are ultimately unable to triumph over the forces that overwhelm them. hide

The Wild Irish Boy (1808) (ISBN: 978-1-304-84686-5) more

The Wild Irish Boy

, Charles Robert Maturin's second novel, was published in 1808. Set in both Ireland and England shortly after the Act of Union, the story follows the adventures of Ormsby Bethel, a young Irishman of uncertain ancestry, as he navigates through the temptations of high life, the intrigues of swindlers, gamblers, and fast women, and his own uncertainties about his place in the societies of both countries. Combining features of the silver fork novel, coming-of-age story, and to some degree (in scenes of Irish life) the national novel,

The Wild Irish Boy

is an entertaining tale full of unexpected twists and turns, extravagant scenes of fashionable excess, misguided and dangerous passions, and long-held secrets with dire consequences: riches and ruin, both moral and financial. Among the colorful characters is the too-fascinating Lady Montrevor, cultured, ingenious, and enigmatic, who adds a dimension of excitement and intrigue that contributes to making Maturin's

The Wild Irish Boy

a novel rich with conflicting social and moral viewpoints.

hide

The Milesian Chief (1812) (ISBN: 978-1-312-27626-6) more

The Milesian Chief, Maturin's third novel, published in 1812, was described by James Clarence Mangan as the "most intensely Irish story" he knew of, and is the first of his novels to be set almost entirely in Ireland. Shortly after the 1800 Act of Union, the political and social turmoil caused by rebellion in the name of Irish independence disrupts the splendid fortunes of the talented and beautiful Armida, Italian- bred and English-born, who falls in love with Connal, last of an ancient Irish dynasty and leader of a desperate army of rebels. As she follows Connal's dire path, her exquisite if emotionally sterile life of art and music is transformed into an adventure in the wilds of western Ireland, the huts of the poor, bloody battlefields, rocky shores, and cavern hideouts, as English forces gradually draw closer to defeating the rebels. The sense of dread that overwhelms the characters and the entire countryside in their struggles against enemies, military as well as personal, is echoed in the passion of Armida and Connal, and enhanced by Maturin's vivid gothic touches. hide

Women; or, Pour et Contre; a Tale (1818) (ISBN: 978-1-312-84588-6) more

Women; or, Pour et Contre, was Charles Robert Maturin's fourth novel, published in 1818. A work of deep emotional intensity, Women avoids extravagant horrors and intrigue; Maturin wished instead to concentrate on "common life." But he does so with an uncommon psychological penetration for its time, while detailing the painful romantic attractions of two fascinating women—Eva, a deeply religious and innocent girl, and the intellectually superior, talented, and popular Zaira—to the same man, De Courcy. While also satirizing evangelical Christianity (with less vitriol and more good humor than he treats Catholicism in his most famous work, Melmoth the Wanderer) and the intellectual pretensions of high culture and society, it is, to quote Alaric Watts, its "profound and philosophic melancholy," "its terrible researches into the deepest abysses of the human heart," and its fine characterization of the two women, that makes Women; or, Pour et Contre a novel second only to Melmoth, and in many ways superior to it, while demonstrating the wide literary range of this remarkable Irish novelist. hide

Melmoth the Wanderer (1820) (ISBN: 978-1-329-60493-3) more

The most well-known of Charles Robert Maturin's novels, Melmoth the Wanderer (1820) continues to occupy its position at a high-point in Gothic literature. Lurid, vivid, sacrilegious, paranoid, anti-Catholic, painfully tortuous and gleefully drawn out in its depictions of suffering, the machinations of its title character in his efforts to find victims miserable enough to take over his bargain with "the enemy of mankind" gave Maturin the canvas he needed to display his talents of "darkening the gloomy" by interweaving tales of the tribulations of Melmoth's intended victims. The Englishman Stanton, ensnared into an insane asylum; the Spaniard Monçada, trapped in monasteries and prisons of the Inquisition; Immalee, once an innocent child of nature; Elinor, a Puritan maiden crossed in love, blighted by cruel deception—all are confronted with Melmoth's icy seductions. Maturin's uncanny aptitude for alternating vertiginous intensity with brooding melancholy and despair leads the reader to a dark side of the psyche where the heavy price paid for redemption often tests human fortitude and conviction beyond the limits of endurance. hide

The Albigenses (1824) (ISBN: 978-1-387-06341-3) more

Charles Robert Maturin's last novel, The Albigenses (1824), a historical romance of the early 13th century, is a rich tale of the conflict between the Catholic church and the Albigenses, a heretical sect centered in Languedoc. But its historical background does little to inhibit Maturin's strong penchant for extravagant scenes of violence, horror, and vivid evocations of nature at its least benign. His wide range of characters people a well-plotted story of impressive density—the heroine, Genevieve, compassionate but bold, and true to her creed; the ruthless bishop of Toulouse; churchmen and women, Catholic and heretic, of varying degrees of piety; maniacal harridans, formidable outlaws, and knights in armor. The Albigenses received, in general, better reviews than most of his other works, mainly because of its relatively reduced emphasis on blasphemous doings, but the reputation in favor of Melmoth the Wanderer soon overshadowed it. This new edition of The Albigenses aspires to renew interest in the Irish master's elaborate and engrossing final tale. hide

Plays (ISBN: 978-1-387-95836-8) more

The three plays of Charles Robert Maturin, produced in London between 1816 and 1819, document Maturin's attempts at theatrical success. His first three novels were not popular, but his luck improved with Bertram (1816), which ran for twenty-two nights. Even with this success in hand, Manuel (1817) and Fredolfo (1819) failed completely, partly through the sabotage of indifferent actors and a fickle public. A posthumous play, Osmyn, the Renegade, had slightly better luck, but only fragments remain.

Few if any plays of this period, when public tastes valued excess and melodrama over literary quality, are performed or read today. The reader of Maturin's novels, however, will find in his plays ample evidence of the wild Romantic imagination that fueled his novels. The rhetorical vigor common to all his works revealed perhaps its most unfettered expression in the plays. hide

Sermons (in progress 2018–2019)
Supplement (Idman biography, contemporary reviews and biographical notices)
The Works of Charles Maturin is available from Lulu.com and other on-line outlets.
---
Charles Robert Maturin Biography
Charles Robert Maturin was born in Dublin in 1780, and died there in 1824. He was ordained in the Anglican Church of Ireland, and from 1805 until his death he was the curate of St. Peters in Dublin. He was the author of six novels, many incorporating, to varying degrees, elements of the gothic genre, the most famous of which is Melmoth the Wanderer (1820). He also wrote three plays, one of which, Bertram (1816), had success on the London stage; but otherwise his writing did not yield financial rewards. His meager church salary and eccentric, spendthrift habits ensured that he and his family (there were four small children when he died) remained in straightened circumstances, and his persistent and exhausting pursuit of literary success undermined his health, leading to his death at 44 years old.